Messages
View Full Report!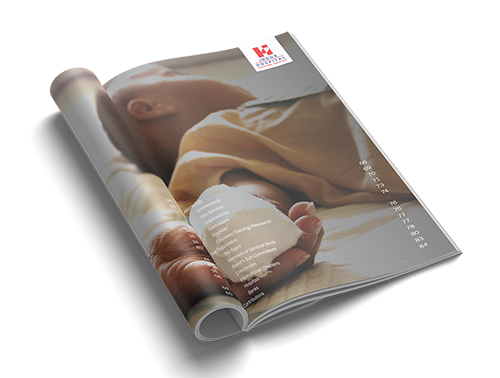 Education
Indus University of Heath Sciences
In 2017, the Indus Health Network's Academic Directorate was established with a mandate to establish the Indus University of Health Sciences (IUHS).
The University is composed of seven colleges:
• Indus College of Nursing and Midwifery
• Indus Medical College
• Indus College of Public Health
• Indus College of Medical Technology and Allied Health
• Indus College of Physical Rehabilitation
• Indus College of Dentistry
• The Indus College of Pharmacy.
Currently, the Colleges of Nursing and Midwifery, and Medical Technology and Allied Health are functioning while the remaining five are underway. IUHS also offers Postgraduate Medical Education and several diplomas and certificates in Infection Control Program, and other clinical, non-clinical teaching and learning programs.
IUHS was given its charter as a University through an act of the Provincial Assembly of Sindh in 2015.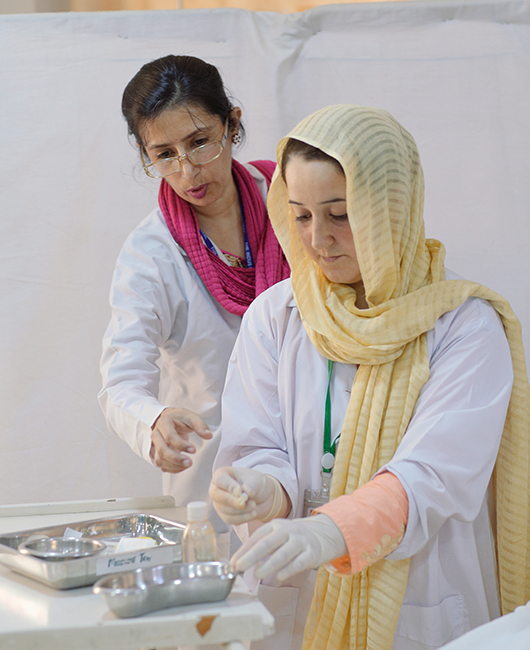 The University aims to provide quality education to create the next generation of healthcare professionals devoted to providing quality healthcare across the country. Just like The Indus Hospital's vision to provide excellence in healthcare, the idea for the University also revolves around providing the highest standard of education to fill the existing gaps in our education sector.
By 2021, the Academic Directorate aims to start a Department of Examination and Assessments to streamline assessment activities and fulfill future requirements for university recognition. The Directorate also plans to start training staff at various levels through online teaching methods with the help of Learning Management System software.
Indus College of Nursing and Midwifery
The Indus College of Nursing and Midwifery (ICoNM) is the first academic unit of Indus University of Health Sciences. The college offers various diplomas in nursing at undergraduate level to students coming from different ethnic and socio-economic backgrounds of Pakistan. The College started in September 1994, with a group of 35 female students for a three years general nursing program. ICoNM aspires to become an institution of distinction in nursing education through contemporary education, applied research, ethical practice, and humanistic service. The objective is to train nurses in an environment whereby they excel both professionally as well carry the highest moral and ethical standards of the profession.
ICoNM is currently offering the following programs:
• BSNursing (4-year degree program)
• Post RN BSc Nursing (2-year degree program)
• General Nursing Program (3-year diploma)
• Post RN Diploma in Cardiology (01-year diploma program)
• Post RN Diploma in Pediatric Oncology (01-year diploma program)
• Post RN Diploma in Midwifery (01-year diploma)
All programs are recognized by the Pakistan Nursing Council while BS Nursing and Post RN BSc.N programs are affiliated with the Dow University of Health Sciences.
During 2019-2020, the success rate was above 90% with the majority of the successful students achieving a GPA above 3.5.
ICoNM aims to become a center of excellence in nurse training and research by expanding its programs and enhancing its teaching and learning methodologies. These include:
• Increasing the enrollment numbers from 80 to 100 for the BSN program
• Initiate the Community Midwifery Program
• Increasing active participation of faculty in research activities
• Adapting and implementing new learning resources and strategies for effective classroom and clinical teaching

Indus College of Medical Technology and Allied Health
The Indus College of Medical Technology and Allied Health was established in 2016. It was set-up to develop a workforce having basic knowledge and skills of a general and specialty-specific allied health worker. The College offers a six-month Nursing Assistant Training Program; a one-year diploma in Blood Banking and Transfusion Medicine; a two-year diploma in Cardiology ICU and Anesthesia; an Operation Theatre; a one-year program in Anesthesia Technician; an Operation Theater Technician; a Pharmacy Dispenser Technician; a Pediatric Oncology Technician; a Dialysis Technician; a X-Ray Technician and a Laboratory Technician.
The College also recently started a two-year associate degree in Blood Banking. The degree program was approved for four sites of IHN including Karachi, Jamshoro, Multan, and Bahawalpur.
Due to the success of the programs being offered, during 2019-2020, the College had an 84% increase in student body across the 12 programs/courses being offered. To ensure the provision of a spacious learning environment for the students, the college was relocated to a new building close to The Indus Hospital, Korangi Campus. The new facility has four spacious classrooms with a seating capacity for 50 students in each classroom.
All the classrooms have audiovisual facilities; a skills laboratory equipped with multipurpose manikins and models; and three workstations for demonstrations and hands-on practice.
Postgraduate Medical Education
IHN offers a structured training program for Postgraduate Medical Education (PGME) recognized by the College of Physicians and Surgeons, Pakistan (CPSP). The PGME programs are carefully structured to meet CPSP's requirements with the Department regularly monitoring residents' academic activities. The PGME Department assesses both supervisors and trainees frequently to make sure that the teaching methods are up to the highest standards.
Currently, there are 18 FCPS/MCPS programs and three fellowship programs running at The Indus Hospital, Korangi Campus.
In Muzaffargarh, 4 FCPS training programs recognized by CPSP are being run, with each program having completed a one-year training program.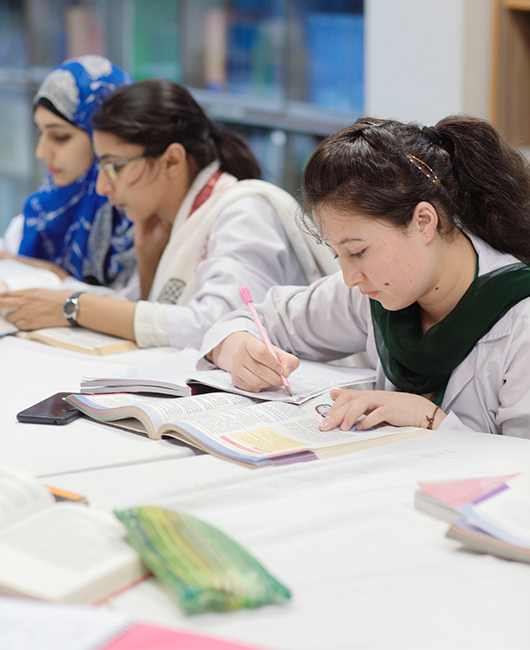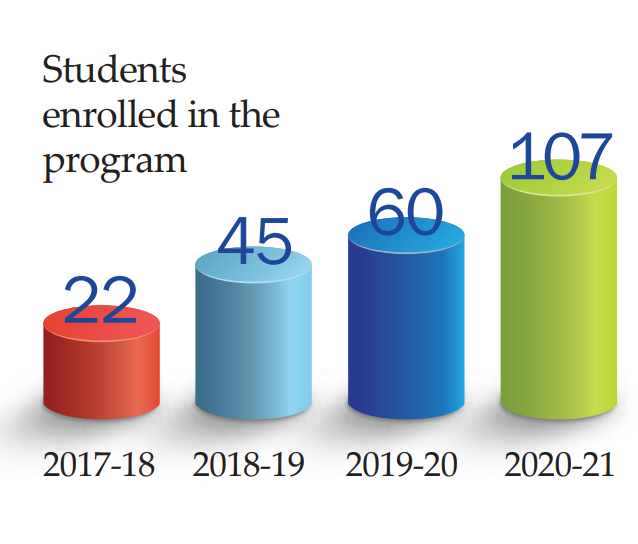 Hospital Infection Prevention and Control Program
The one-year certificate program prepares healthcare professionals to lead and implement comprehensive infection prevention and control strategies. The program ensures that candidates are fully prepared to lead infection prevention and control services and are capable of developing, implementing, supervising, and auditing a comprehensive program in different healthcare facilities.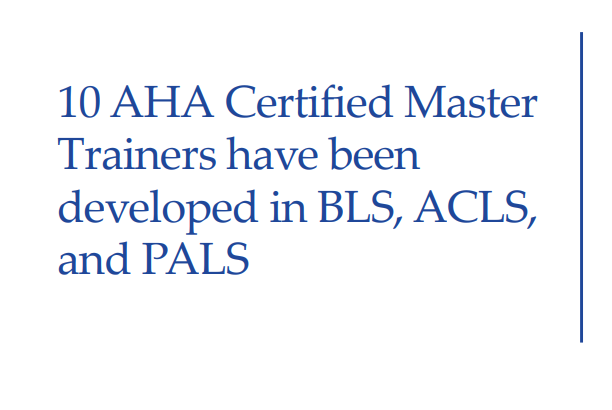 Indus Resuscitation Training Center (IRTC)
Emergency Response Committee (ERC) is a clinical committee within the Medical Directorate formed to ensure the resuscitation training of staff.
Over the last three years, the need for training staff in different resuscitation courses has grown.
To meet the growing need, IHN trained nearly 3,000 participants in 80 courses in different categories such as Basic Life Support (BLS); Advanced Cardiovascular Life Support (ACLS); Pediatric Advanced Life Support (PALS) affiliated with American Heart Association (AHA); Neonatal Resuscitation Program affiliated with American Academy of Pediatrics; Helping Babies Breath (HBB) affiliated with WHO, STABLE courses for neonatal resuscitation and Cardiopulmonary Resuscitation awareness sessions.
Department of Health Professional Education
In line with the requirements of IUHS, a Department of Health Professional Education (HPE) has been established. HPE will liaise with Enterprise for Medical Education and Research (EMER) to ensure the educational activities of various health professionals. These activities will include building capacity, improving teaching outcomes, teaching new methodologies, improving, and documenting assessment methods, and providing support to all health-related educational activities.