The Change Maker
Creating a new benchmark
Dr. Saba Jamal
A solid-white building behind the Korangi Campus houses The Indus Hospital's Blood Center. Inside the building sits Dr. Saba Jamal, who is behind the country's one-of-a-kind centralized blood banking system.
Dr. Saba is a well-known name in the Pakistani medical community. Her work on centralizing the country's blood banking system and making it at par with international standards has been a topic of discussion in various medical circles.
"I came to Indus because here we are working towards what is best for the patient, it does not have any financial motivation for earning. We make possible improving the standards at a much lower cost," she says.
In just seven years, Dr. Saba managed to create the country's largest centralized blood banking system in the country, with nearly 94 % of it now based on voluntary donation.
A graduate of Sindh Medical College, Dr. Saba went to the US where she did three boards in atomic pathology and then a diploma of American Boards in Clinic Pathology. She followed that up with a fellowship in histopathology and then boards in hematology.
"When I came back from the US, I started working as a hematologist and a histopathologist. During that period I realized that despite our labs being so up to date, our blood banks were not up to the par and no one was working on improving them either," she says. "I realized that if you do the blood banking
correctly then you can't make money out of it," Dr. Saba adds. "It's a very expensive undertaking to produce safe blood in Pakistan, and all of the blood is collected through replacement donors. So, it rests on the patient's families to go and get the donors because there is no factory for blood and the patient's family has to go and get blood."
This creates a major problem for patients who require transfusions such as those suffering from thalassemia, hemophilia, or cancer patients who require blood before their chemotherapy. "Cancer patients run into major problems because even their relatives don't come to meet them because they know they will be asked for blood. So, it's a very tragic situation for them."
With no work done on voluntary blood donation in the country, the country was facing a race against time — of nearly 50 to 70 years — behind the world in centralized blood banking. "I changed the blood banking practices at Ziauddin to see if it was doable by training the staff and brought them up to the mark, and that is when I realized it is possible to do it in Pakistan and started looking for partners with whom I can work with," she shares.
With her work at Ziauddin steadily gathering attention, another well-known name in the medical community Dr. Abdul Bari, approached her and offered her to be a part of the Indus Hospital. "I shared my dream with him and he welcomed me aboard. My aim was to be there for the poorest of the poor and not just for the elite," Dr. Saba. By February 2012, Dr. Bari got
remainder from other parts of the country and Afghanistan.
The Indus Hospital maximizes oncology unit's space by not admitting patients' for chemotherapy. The 28-bed chemotherapy daycare unit administers treatment from 8 am until 10 pm.
The pediatric oncology unit collaborates with other institutions in Karachi as well as across Pakistan through its work as part of the Pakistan Society of Pediatric Oncology.
Since 2013, Indus is offering a two-year fellowship program in pediatric oncology. Indus also offers nursing training courses that attract nurses from across Pakistan and other countries. In 2019, six nurses from outside Pakistan participated in the course. Nearly 300 nurses have received training at Indus under the My Child Matters grant.
The Indus Hospital currently has nine pediatric oncologists. It also educates pediatricians across Pakistan. It also conducts awareness campaigns at other hospitals while bringing in physicians for workshops.
Indus is the only center in Pakistan with four subspecialties in pediatric oncology: leukemia, lymphoma, sarcoma and solid tumor, and neuro-oncology.
"We're growing in all directions of services, research, and academics," Dr. Ashraf said. "Indus is now in a state of leadership of pediatric oncology in Pakistan. We've developed the capacity to not only build our unit but other units to improve the infrastructure and care." That growth is essential to meet the pediatric the necessary funding — two months after their initial meeting — with work on the blood center starting from April 1.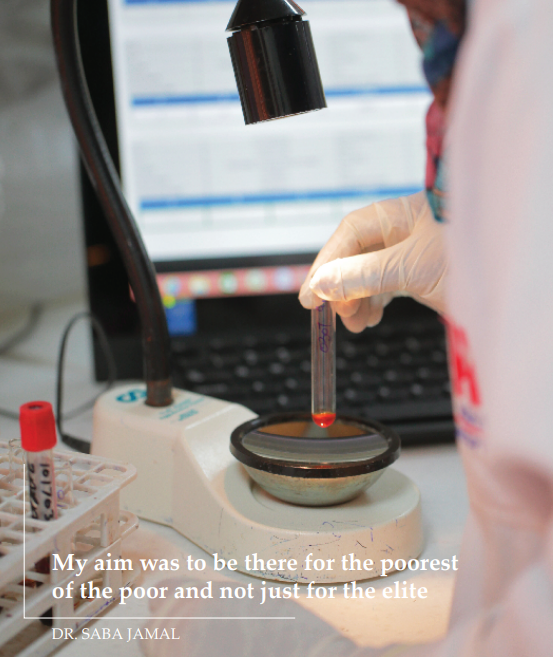 The Indus Hospital Blood Center opened its doors in October 2013, becoming the first centralized blood center in the country working on voluntary blood donation "In just seven years we have grown from one blood center to four regional blood centers and running 22 blood banks connected to it and I hope that Pakistan's healthcare system will hugely benefit from it." says Dr. Saba