Messages
View Full Report!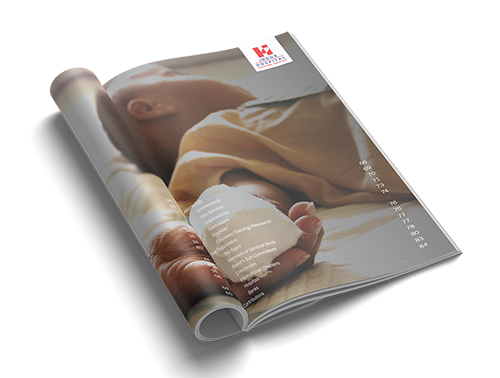 Primary Care and Global Health Initiatives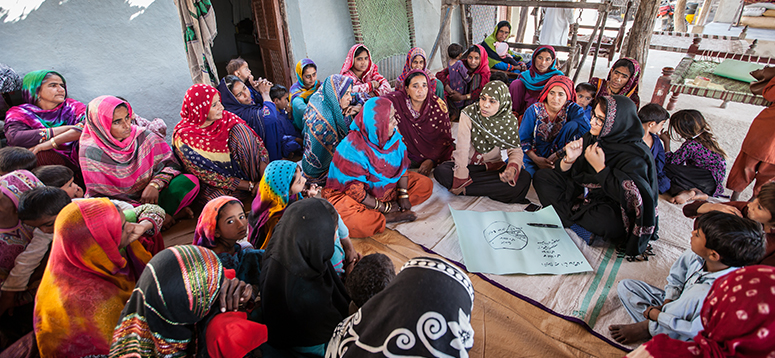 IHN came into existence with the basic mandate to provide quality healthcare for free. In partnership with IRD Pakistan, it created the Global Health Directorate (GHD) with the objective to build, scale, and improve primary care level ofservices and the delivery of public health programs across Pakistan. The Directorate, with the support of some national and international stakeholders and donors, is running multiple primary care community health centers and public health programs.
Scaling-up innovative approaches, mobile health technology, and a strong network of community health workers (CHW), GHD's service delivery in the community and at the primary care level of services has strong linkages with local, secondary and tertiary facilities within the Indus Health Network. GHD successfully implemented interventions at hospitals and community settings across Pakistan and has impacted over 1 million people.
TB Program
IHN in partnership with IRD has been a major stakeholder in carrying out the "Aao TB Mitao" initiatives in Pakistan with public and private sector partners. In addition to two Zero TB City projects in Karachi and Peshawar, the program has also laid the foundations for establishing comprehensive programs that work towards the elimination of TB by initiating active case finding programs in Quetta, Bhong, Hyderabad, Sukkur, Lahore, Skardu, and Khaplu. Aside from providing mass screening at a population level, the emphasis has been laid on effective screening of at-risk groups such as prisoners, HIV patients, diabetics, factory workers, coal miners, and other high-risk groups. The teams screened 552,587 adults and 161,886 children for TB during 2019-20 and started 3,856 adults and 2,387 children on treatment for drug-sensitive TB across different parts of the country. Through this initiative, the team has enrolled 937 patients on treatment for drug-resistant TB across 11 sites in Sindh and Baluchistan. Of the patients found, 10,882 contacts of TB patients have been evaluated for the presence of disease of which 7,657 patients were offered preventive therapy for TB. In an effort to expand its reach and provide widespread coverage the program has mobilized almost 55 mobile X-Ray vans across the country aiming to help work towards the decline of TB in the country.
13,522 prisoners across Sindh, Khyber Pakhtunkhwa, and Baluchistan jails were also started on preventive treatment.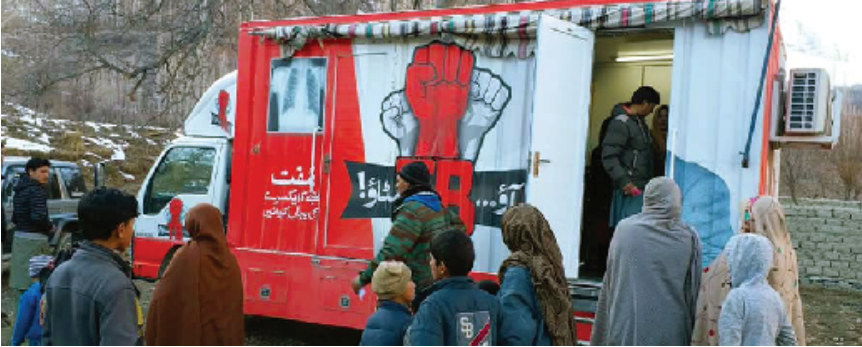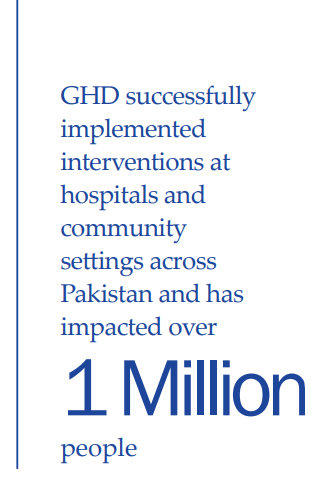 Primary Care Program
The Primary Care Program (PCP) was initiated in 2017 to address a growing need for providing free-of-cost and high-quality care at first-contact for our population. The program integrates family medicine with public health interventions and puts a premium on preventive care through community-based teams linked to each center. Services in each facility are customized based on an assessment of the surrounding community to match the healthcare needs of the population and so improve the overall health indicators.
PCP functions as the first point of contact where continuous, comprehensive, and coordinated care is provided to populations undifferentiated by gender, disease, or age. During July 2019- June 2020, 1,136,599 patients were seen. PCP managed 25 primary care facilities across Pakistan. These facilities include 12 hospital-based facilities such as the Family Medicine Clinic at Indus Hospital, Karachi, and in Badin, Muzaffargarh, Multan, and Lahore. It also operates 12 standalone clinics in the districts of Tharparkar, Jamshoro, Muzaffargarh, Kashmir, Rahimyar Khan, and Karachi. The clinics are also functional in Jahangir Siddiqui Hospital, Sehwan, Khorwah Chowk, Islamkot Hospital, and A&M Memorial Hospital, Kashmir.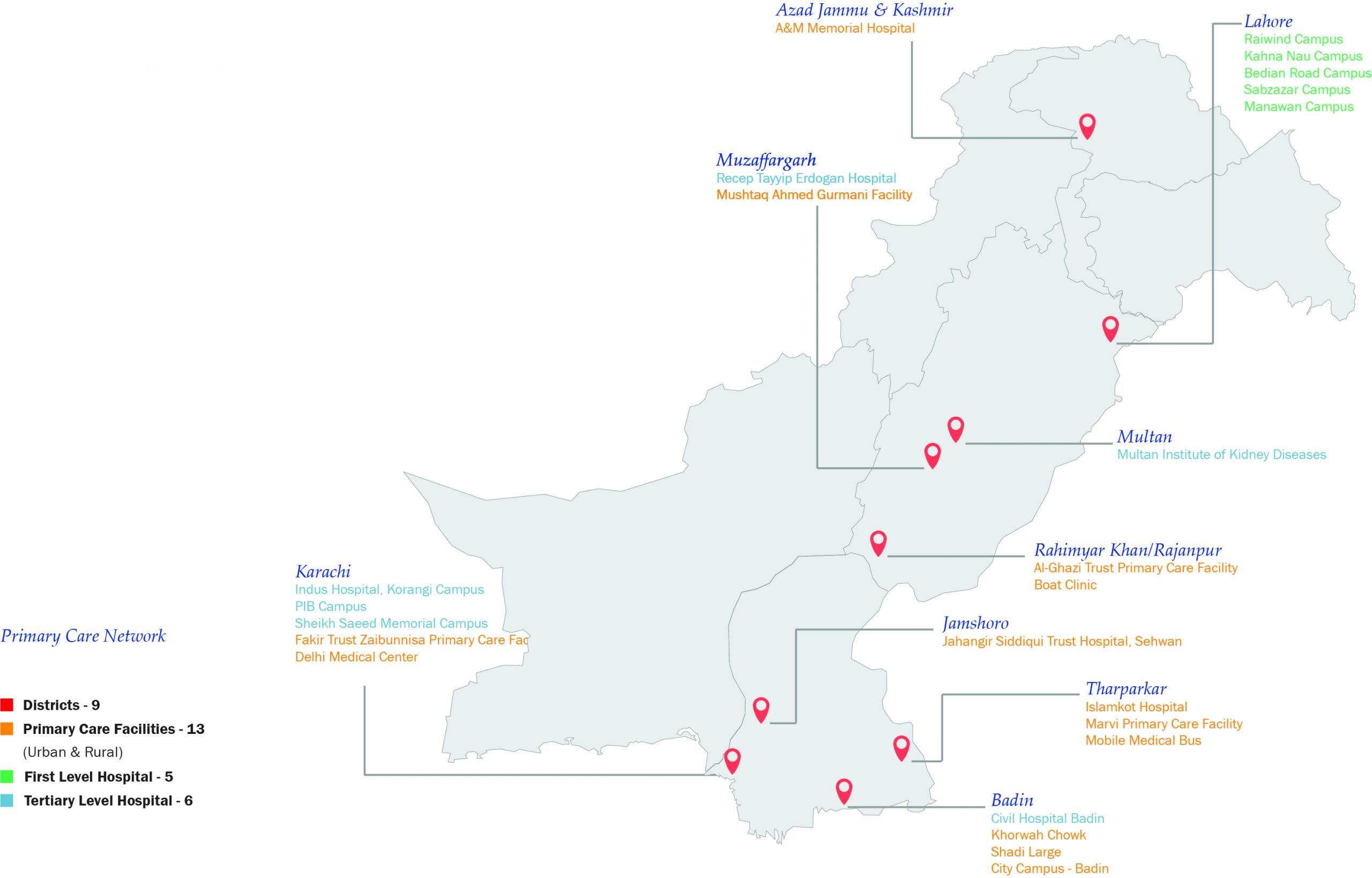 Community Engagement Centre
The Community Engagement Centre (CEC), a joint venture of the GHD and IRD Pakistan, is a learning and resource hub aimed at deepening the understanding of 'community engagement', whether it be in health or other social sectors.
CEC is collaborating with partners to identify and introduce appropriate interventions in communities for sustainable improvements in health. It is establishing a volunteer cadre of community leaders who will mobilize to address social determinants of health in their own communities. CEC is
furthering literature in the field of community engagement to develop and share guidance and best practices.
From July 2019 to June 2020, the CEC has engaged 349,551 people through its core initiatives: community empowerment, awareness-raising, youth engagement, and psychosocial support with the help of its 33 CHWs and 27 Mental Health Officers (MHO) who are active across 9 sites in Sindh and Punjab. These include 7 sites in Sindh – with 3 in Karachi alone – and 2 sites in Punjab.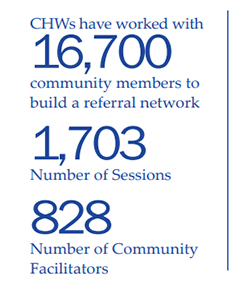 Community Empowerment
The CEC takes a participatory approach towards community engagement, by including indigenous populations as partners towards sustainable change.
CHWs have worked with 16,700 community members to build a referral network to the primary care sites, identify available resources, and unpack the community's needs.
Awareness Raising
In an effort to increase community competency regarding health, CEC's awareness-raising campaigns promote community dialogues focusing on health needs identified by the community. Through 4,200 dialogues, 79,446 participants have been engaged in health information sessions.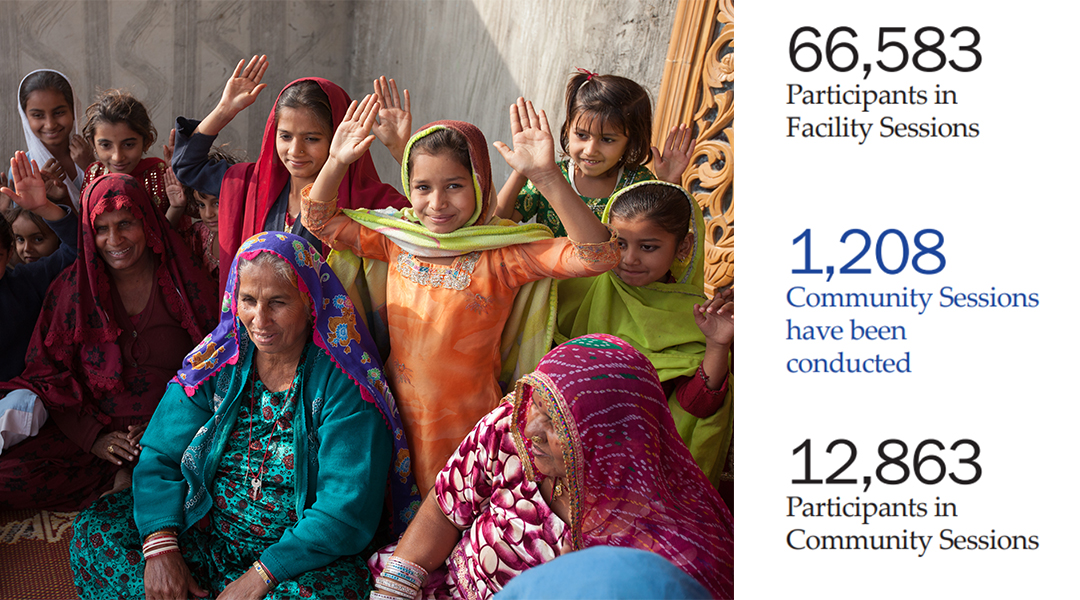 Training and Learning
Training and Learning team at CEC works toward capacity building of the CEC as well as GHD staff. From July 2019 to June 2020, it delivered training on three themes to 102 participants that
comprised CHWs and MHOs.
Youth Engagement
In the districts of Badin and Rahimyar Khan, 21 schools were engaged in the Adolescent Health and Leadership Program (AHLP), where 48 teachers were trained to incorporate AHLP into their school curriculum. These teachers went on to train 2,899 eighth, ninth, and tenth-grade girls in government schools in these districts. These girls visited 31,572 households and encountered over 18 9,432 people in their neighborhood to conduct basic health screening and refer community members to the nearby primary care clinic.

Pursukoon Zindagi
As part of an integrated primary care model, IRD Pakistan's Pursukoon Zindagi has integrated all patients registered at the primary care clinics – as well as their attendants – and creened them for depression and anxiety by trained lay-counselors. 53,829 individuals were screened, from which 2,527 were found to be symptomatic of depression and anxiety. 1,462 of these were enrolled in counseling by the mental health lay-counselors.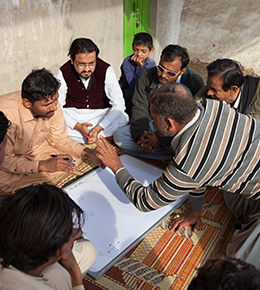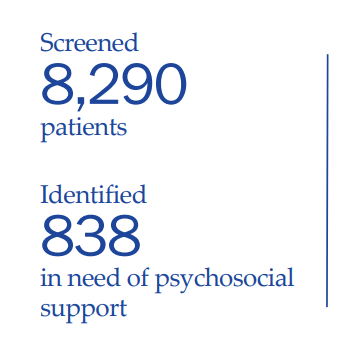 Psycho-Social Support Intervention (PSSI)
The PSSI program identifies and screens already registered patients who may be vulnerable and in need of social support. From July to December 2019, PSSI has screened 8,290 patients and has identified 838 in need of psychosocial support. PSSI is now conducting visits across 15 communities in one of its core sites in Punjab.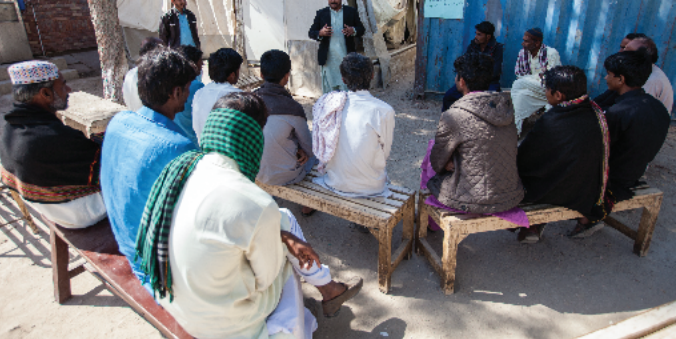 HCV Community-Based Screening
Community Health Workers (CHW) conducted 155 awareness sessions on Hepatitis C in the communities in the catchment populations of Mushtaq Ahmed Gurmani Primary Care Clinic, Thatta Gurmani, District Muzaffargarh, and Jahangir Siddiqui Hospital, Jamshoro, District Sehwan.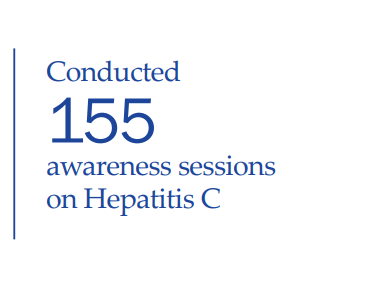 Maternal, Neonatal, Child Health in Primary
Care Program
PCP's more than 60 % of patients are mothers and children. The Maternal, Neonatal, Child Health (MNCH) Program has been an integral part of the PCP. The MNCH component is running the following projects:
Expanded Programme on Immunization
Zindagi Mehfooz – Electronic Immunization
Registry (Child Level Data) implemented in Sindh and now expanding to Islamabad and
Baluchistan
Deworming Program
Family Planning
Lactation Management Program
Integrated Management of Childhood Illness (IMNCI)
Nutrition Program
Safe Delivery Program
Midwifery Program
Helping Babies Breathe (HBB)
During July 2019- June 2020, the program immunized 168,563 children; 27,206 women of reproductive age were immunized with tetanus toxoid; 1,553,236 children and 528,885 women were enrolled into the Zindagi Mehfooz digital immunization registry from 29 districts of Sindh; dewormed 6,673 children; provided family planning services to 11,553 women; lactation management services to 23,405 women; Integrated Management of Childhood Illness (IMNCI) service was provided to 28,441 children; nutrition screening of 83,673 patients; 12,831 children enrolled in the nutrition program out of which 12,134 were treated for severe acute malnutrition and moderate acute malnutrition in outpatient therapeutic program and 697 children with complications were treated in a stabilization center.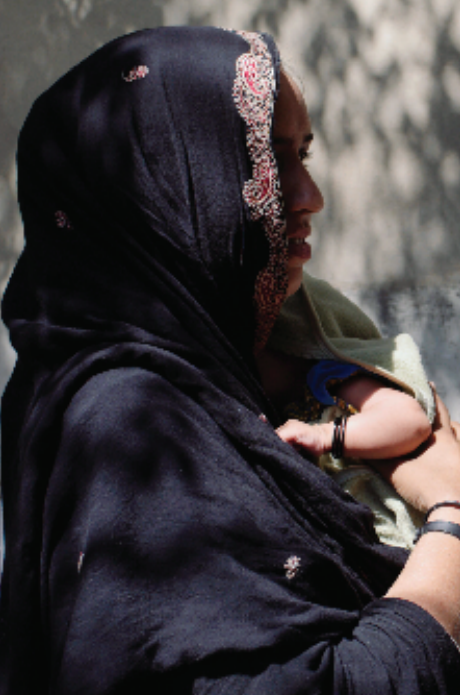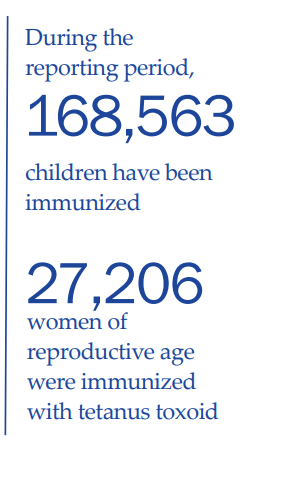 It also facilitated 330 safe births through its midwife-led labor room. In addition, 9 master trainers, 13 facilitators, and 94 providers were trained in the Helping Babies Breath course which helps to ensure safe delivery outcomes.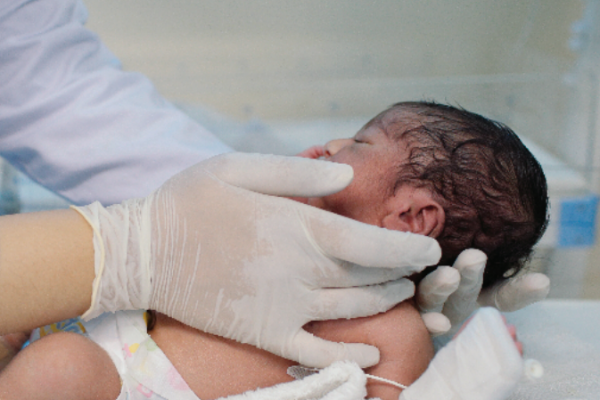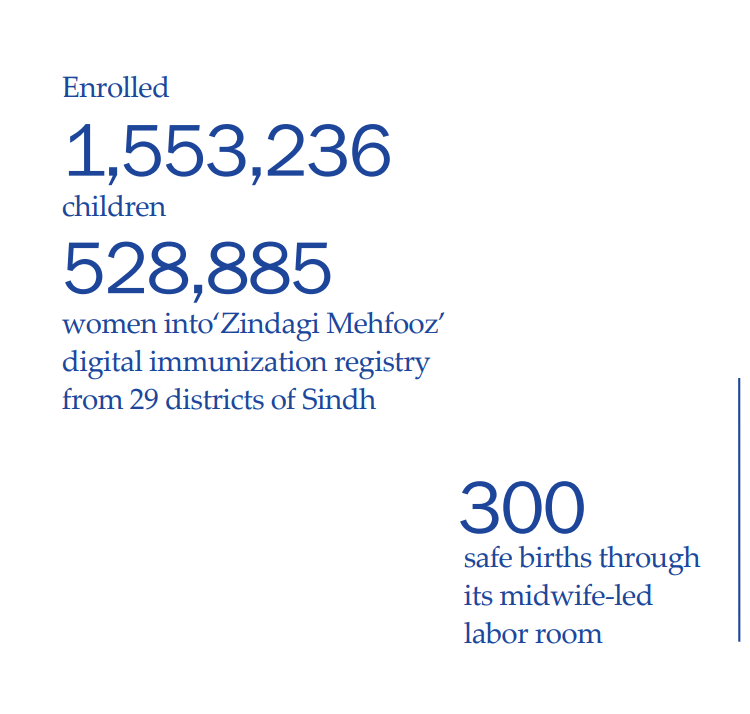 Center for Essential Surgery and Acute Care (CESAC)
The CESAC aims to bridge the healthcare delivery gap through research, community mobilization, capacity building, and implementation of programs focused on surgical conditions. CESAC runs the following programs:
Safe Circumcision Program (SCP)
The service-delivery program uses the concept of 'task sharing' in which pediatric surgeons train CHWs, technicians, and midwives to perform safe circumcision on male babies under three months of age, using the "plastibell technique" and adhering to stringent infection control practices under close supervision and monitoring. Since its inception, more than 7,000 babies have been circumcised as part of the program.
Program sites:
• Sheikh Saeed Memorial campus (SSMC), Karachi since June 2016
• Recep Tayyip Erdogan Hospital (RTEH), Muzaffargarh since December 2017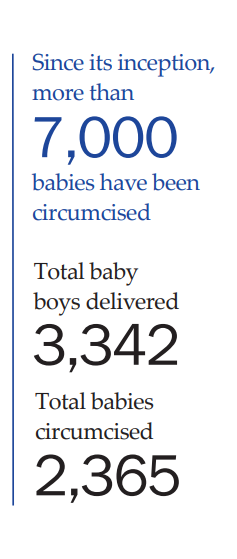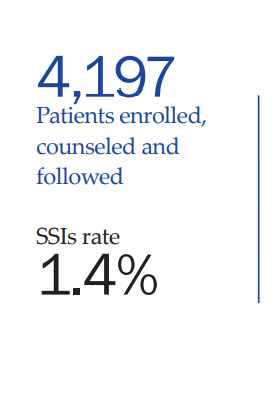 Surveillance for Surgical Site Infections (SSI) Program
The program aims to assess the burden of SSIs in addition to evaluating the ability of patients to identify an SSIs and to take immediate action. The operational research was initiated in RTEH in March 2018 and was completed in March 2019. However, passive surveillance is still being conducted in RTEH.
Pehla Qadam (PQ) Program
The program is part of a global commitment to eliminate untreated clubfoot; the PQ program provides free of cost treatment using the Ponseti method, the gold standard approach to managing uncomplicated club foot. Since its inception in 2011, more than 1,000 children have been enrolled in the program and 250 patients have completed treatment. This program is jointly funded by the Amer Haider Charitable Foundation and IHN.
The program is functional at:
• The Indus Hospital, Korangi, since August 2011
• Recep Tayyip Erdogan Hospital, Muzaffargarh, since December 2017
• Manawan General Hospital, Lahore, since October 2017
• Civil Hospital, Badin, since February 2019
Vascular Anomalies Center (VAC)
Vascular anomalies are complex conditions commonly seen in children and can be disfiguring. This program provides a comprehensive, one-stop diagnostic and treatment center. The program was initiated at the Indus Hospital, Korangi campus in January 2017. As a first step towards this initiative, a PDL laser machine- V Beam Perfecta, was donated to the Indus Hospital in January 2017 for the treatment of vascular anomalies. This program is jointly run by pediatric surgery, dermatology, and radiology departments with expertise from other departments being provided as needed. International experts have contributed to the capacity building of the Indus team.
From January 2017 till July 2020, a total of 369 patients have been enrolled, and 82 patients have completed the treatment.
During 2019-200 141 patients enrolled with 47 of them having completed their treatment.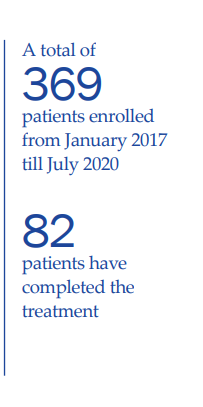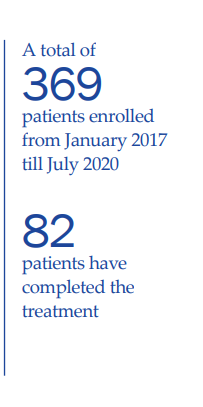 Certification Program in Emergency Medicine (CPEM)
This one-year program aims to train Emergency Department (ED) doctors in key Emergency Medicine (EM) knowledge and skills through a standardized and locally relevant training curriculum. The initial course commenced at TIH in July 2018. The second year of the course began in July 2019. CPEM is a collaboration between IHN and emergency medicine specialists based at Harvard Medical School. It is funded by the Habib Bank Limited Foundation; during the first year of the program, additional funding support was provided by the Harvard Medical School's Centre of Global Health Delivery, Dubai.
In June 2019, CPEM graduated its first batch of 25 students. 25 students enrolled for the second batch.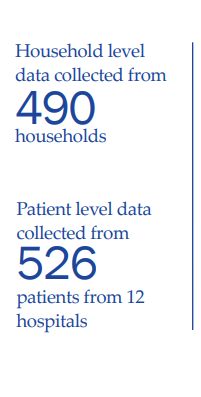 The Lancet Indicator Survey
The project is a collaborative effort between IHN and the Program in Global Surgery and Social Change (PGSSC) at the Harvard Medical School. This study is funded by the Harvard Medical School's Center of Global Health Delivery in Dubai.
The purpose of this project is to assess the capacity of Pakistan's health care system to provide safe, affordable, and timely access to essential surgical care. The project will conduct a cross country, two-staged randomized household survey of 770 households. Moreover, a patient survey of 400 surgical patients across public sector tertiary care centers of the country will also be conducted.
The project preparation started in March 2018. Over the last one and a half year:
• Household level data has been collected from 490 households
• Patient level data has been collected from 526 patients from 12 hospitals
Global Children's Surgery Program

The Global Children's Surgery Program (GCSP) is aimed at improving neonatal and child health, with a greater focus on surgery. Some of GCSP'S projects include a collaborative approach with the neonatology department at Sheikh Saeed Memorial campus as well as partners at the Global Initiative for Children's Surgery (GICS). The project is functional at SSMC and TIH.
The project encompasses: Impact of COVID-19 on Children's surgery; Essential Procedures in Children's Surgery; Neonatal Screening for Congenital Anomalies; Neonatal ICU Data Chart Review; Revision of the HMIS-Neonatal Database for an improved data collection process.
National Vision for Surgical Care 2025
The resolve to strengthen surgical systems and to strive towards universal availability of safe essential surgical care is a part of the commitment made in the 68 World Health Assembly and Sustainable Development Goal 3.8. National Ministry of Health Services, Regulation and Coordination in collaboration with The Indus Hospital has engaged stakeholders, both national and international, and initiated the National Vision for Surgical Care 2025.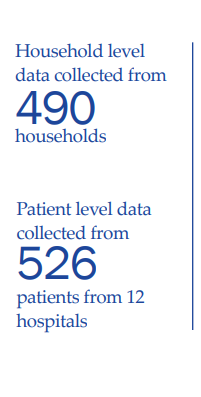 Hepatitis C (HCV) Control Program
Since its inception in October 2016, the HCV Control program has been replicated across eight rural and urban sites of Pakistan. Approximately 122,478 patients above 13 years have been screened using WHO-approved rapid diagnostic test kits. 14,968 suspected cases have been PCR tested and of these 9,758 confirmed cases have been linked to treatment. 73% of patients were from rural areas. The majority of our patients fall between 35 to 44 years and 50% are females. This has been possible through the training of up to 37 family medicine doctors and 41 nurses and health workers across all eight rural and urban sites.
Decentralizing HCV screening through integration in routine patient process flow of family medicine clinics (at Primary Care Program sites), "Aao TB Mitao" initiative, community-based activities run by CEC and Emergency Department services has helped us to identify up to 6,461 confirmed cases, who could have gone undetected and possibly presented at a later untreatable stage of illness. Up to 2,535 participants have been engaged through community-based health awareness sessions at two rural sites.
The program model has also been very instrumental to ensure linkage of suspected cases, identified incidentally during blood donation drives in Karachi. It has been able to actively link up to 246 blood donors to PCR testing and 64 of these to treatment.
The program continues to expand its scope of prevention, screening, and treatment activities to create awareness and actively identify suspected cases to slow down community-based transmission, hence contributing to curb this silent epidemic, a public health emergency in Pakistan.
HIV Program
Pakistan is facing an epidemic of HIV. Most of the victims are persons who inject drugs; men who have sex with men; transgenders; and female sex workers. These populations have specific dynamics and they are mostly marginalized groups. IHN started a sole clinic for key affected population in October 2018. The HIV program incorporates Voluntary Counselling and Testing (VCT), Antiretroviral Therapy clinic and adherence, family counseling, and outreach. From July 2019 – June 2020, 257 individuals have enrolled in the HIV program. ng to curb this silent epidemic, a public health emergency in Pakistan.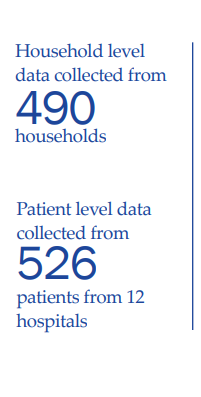 Lung Health Program
The Lung Health program was established in response to the serious morbidity and mortality associated with chronic respiratory disease, recognized by WHO as a serious non-communicable disease. The Lung Health program specifically focuses on non-TB associated respiratory disorders. The program runs the following projects:
Tobacco Control
Tobacco use is a leading cause of poor lung health. During 2019-2020 the program sensitized over a 1,000 adolescent school-going girls at the She Leads conference about tobacco hazards.
Obstructive Lung Disease (OLD)
Obstructive Lung Disease such as asthma and chronic obstructive pulmonary diseases (COPD) is one of the commonest forms of complaints in the primary care sector. In 2019-2020, the service offered 1,130+ spirometry services at The Indus Hospital, Korangi, of which 800+ patients were diagnosed with asthma or COPD in Family Medicine.
Pulmonary Rehabilitation (PuRe)
PuRe provides multidisciplinary treatment for breathless patients with chronic respiratory disease. It was designed to improve health-related quality of life and reduces the burden of exacerbations of respiratory disease. In 2019-2020, 18 patients completed PuRe and 27 are currently enrolled.
Air Quality
The impact of air quality on lung health requires highlighting in Pakistan and locally. In 2019-2020, the programliaised with Pakistan Air Quality Initiative and World Bank for strategy and monitoring the level of carbon monoxide (CO) in 350+ outpatients.
Malaria
The Indus Health Network secured The Global Fund Malaria Grant in 2016 as a private sector principal recipient. IHN in collaboration with the Directorate of Malaria Control Program Pakistan, provincial malaria programs, and the Department of Health is providing Malaria preventive and curative services in Pakistan. IHN's Malaria interventions are implemented to reach out to around 13.2 million beneficiaries in 7 districts of Khyber Pakhtunkhwa and 12 districts of Baluchistan. The goal is to, by 2020, reduce the Malaria burden by 60% in 72 high endemic districts/agencies of Pakistan.
IHN closely worked with its partners to provide Malaria preventive, promotive, curative, and health systems strengthening activities in its grant which supported multiple districts of Pakistan.
TIH is implementing its diagnosis and treatment services in 984 public hospitals and private clinics, out of which 496 are in Khyber Pakhtunkhwa and 488 in Baluchistan. During the year 2019-20, a total of 1,228,934 Malaria suspects were identified and all of them were screened for the Malaria parasite with a rapid diagnostic test or Malaria microscope. A total of 85,744 suspects were confirmed as Malaria patients with all of them treated as per the national treatment guidelines.
Despite the challenges due to COVID-19, the performance of the Malaria team and its partners remained exceptional. When compared with the preceding year 2018-19 there is an increase of 26% in the screening of Malaria suspects. Similarly, there is a drop of about 3% in the confirmed cases during 2019-20 when compared with 2018-19.