Messages
View Full Report!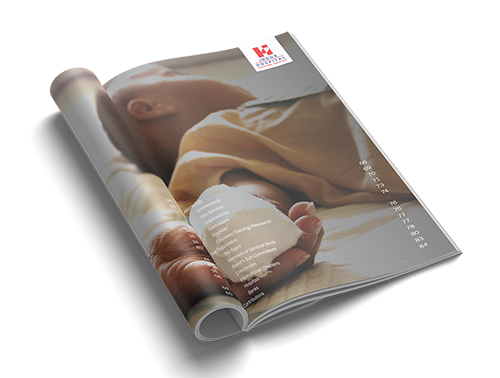 Pediatric Oncology Trailblazer
Dr. Shamvil Ashraf
Following medical school, Dr. Shamvil Ashraf, a pediatric oncologist, pursued a noble journey of serving humanity. His focus was more specific to provide free care to pediatric cancer patients. When Dr. Shamvil graduated in 1984, he wanted to care for children with cancer but there weren't facilities in Pakistan dedicated to pediatric oncology. In 1980, Dr. Shamvil left for Ireland and the United Kingdom to train in pediatric oncology following the completion of his pediatric residency and fellowship. He returned to Pakistan in 1995, joining Shaukat Khanum Memorial Cancer Hospital & Research Centre in Lahore. After some time he moved to Karachi and worked in private practice while also collecting money to fulfill his dream to diagnose and treat children with cancer-free of charge.
In 1999, he established the Children's Cancer Foundation with the help of Dr. Abdul Bari and raised about $400. Undeterred, Dr. Shamvil treated children with cancer, first in a single room before moving to a daycare center and later a small hospital space. Children's Cancer Hospital began providing daycare chemotherapy, pharmacy, and outpatient clinic services. He used a private hospital for admitting patients while the foundation paid the bills.
Eventually, the hospital grew to take on a floor of a bigger hospital. With the determination to see more Pakistani children diagnosed and treated along with the help of My Child Matters grant, Children's Cancer Hospital began nurse training in 2009 to go along with institutional fellowships to train pediatric oncologists.
By 2014, the hospital had three floors and provided a comprehensive childhood cancer unit. In its early years, Children's Cancer Hospital treated a couple of dozen new patients a year. By 2014, it was 500 new cases a year. As the unit grew, the ultimate goal was to build a new hospital. Dr. Shamvil began fundraising and even purchased land for a new facility. But then Dr. Bari– a founding board member of Children's Cancer Foundation – approached with the idea to merge, creating a children's cancer unit in Korangi Campus.
The merger meant having access to labs, diagnostics, and other services already created at Indus while utilizing its education and training opportunities. The two institutions merged in 2014, and construction of a new pediatric complex began in 2015. Children's Cancer Hospital relocated in 2017 to the Korangi campus.
Since the merger, the number of new pediatric cancer patients registered has doubled to 1,000 a year. Now, the current 150-bed pediatric unit provides space for all pediatric medicine, surgery, and oncology care needs. The unit handles all of Indus' pediatric cancer patients from birth through age 16. 45 % of patients are from Karachi, 35 % from interior Sindh, 15 % from Baluchistan, and the remainder from other parts of the country and Afghanistan.
The Indus Hospital maximizes oncology unit's space by not admitting patients' for chemotherapy. The 28-bed chemotherapy daycare unit administers treatment from 8 am until 10 pm.
The pediatric oncology unit collaborates with other institutions in Karachi as well as across Pakistan through its work as part of the Pakistan Society of Pediatric Oncology. Since 2013, Indus is offering a two-year fellowship program in pediatric oncology. Indus also offers nursing training courses that attract nurses from across Pakistan and other countries. In 2019, six nurses from outside Pakistan participated in the course. Nearly 300 nurses have received training at Indus under the My Child Matters grant.
The Indus Hospital currently has nine pediatric oncologists. It also educates pediatricians across Pakistan. It also conducts awareness campaigns at other hospitals while bringing in physicians for workshops.
Indus is the only center in Pakistan with four subspecialties in pediatric oncology: leukemia, lymphoma, sarcoma and solid tumor, and neuro-oncology.
"We're growing in all directions of services, research, and academics," Dr. Ashraf said. "Indus is now in a state of leadership of pediatric oncology in Pakistan. We've developed the capacity to not only build our unit but other units to improve the infrastructure and care." That growth is essential to meet the pediatric cancer needs of Pakistan. Of the 8,000 new cases per year in Pakistan, only about half reach a pediatric oncology unit. And more than 25 % of patients who reach a treatment center have advanced disease. Indus is turning that tide. It has seen a significant decrease in left during treatment (LDT), patients who are seen in the clinic but leave for whatever reason. Specialized care has contributed to that number declining to 6 % from 15 % just five years ago.
Abandonment and access to quality care are challenges in Pakistan, but Dr. Shamvil believes a bright future is ahead, thanks in part to these collaborations.